[ad_1]
Nadella Downgrades "Peripherals" in Microsoft's Vision Statement
Microsoft CEO Satya Nadella released an important public note this morning outlining a refined take on the company he took over five months ago.
The word of more than 3,000 words note, entitled "Starting FY15 – Bold Ambition & Our Core", refines the redefinition of Microsoft launched by its predecessor Steve Ballmer, who, on October 9, 2012 letter told shareholders that "we see ourselves as an appliance and service company."
Nadella's memo communicates Microsoft's new vision and organizational principle in these terms: "At the heart of our concerns, Microsoft is the productivity and platform company for the mobile and cloud world. We will reinvent productivity to empower every person and organization on the planet to do more and accomplish more. "
The vision includes Nadella's common refrain since taking on the job that Microsoft is a cloud and mobile-driven company. But he takes the word "devices," the first word in Ballmer's reframing of the business and one that has confused investors, partners, and customers ever since, and removes it from the vision statement altogether.
Nadella called the company's description of devices and services "helpful in starting our transformation," but said it's time to craft a new vision statement that expresses what Microsoft can uniquely offer.
"At Microsoft, we'll be obsessed with reinventing productivity and platforms. We will relentlessly focus on and create great digital work and life experiences with a special focus on dual use.
Satya Nadella, CEO of Microsoft Corp.
He argues that the vision is vast, reaching nearly 3 billion people with internet-connected devices, which, although he doesn't say it, mostly includes non-Microsoft devices. He also argues that the vision represents a massive growth opportunity, as increasing digitization means spending on technology will grow as a percentage of GDP.
Nadella called on employees at the company to think about what Microsoft does best for customers, rather than the specific tools it currently sells, and build on those concepts.
"Microsoft has a unique ability to bring the world's devices, applications, documents, data, and social networks into digital work and life experiences so that people are at the center and are empowered to do more and get more. more with what is becoming an increasingly scarce commodity – time! "he wrote." Productivity for us goes way beyond documents, spreadsheets and slides. We will reinvent productivity for people who swim in a growing sea of ​​devices, applications, data and social networks. We will build the solutions that meet the productivity needs of groups and whole organizations as well as individuals by placing them at the center of their computer experiences. We will move the meaning of productivity beyond just producing something to include empowering people with new ideas. We will build or tils to be more predictive, personal and useful. We will enable organizations to move from automated business processes to intelligent business processes. "
A key concept in the memo is "dual user," someone who uses technology at school or at work and in their personal life.
"They strive to get things done with technology, demanding new cloud-based applications, making extensive use of time and calendar management, expression, collaboration, meeting, search and research services. advanced, all with greater control over security and privacy. Microsoft will push to every corner of the world to empower every individual as a dual user, "Nadella said." At Microsoft, we will be obsessed with reinvention productivity and platforms We will relentlessly focus on and create great digital work and life experiences with a particular focus on dual use.
While downgrading devices that own the mission statement, Nadella also made it clear that none of them are going to go away – not Surface, Nokia phones, or Xbox.
A graphic representation included with the memo titled "Our Core" shows "Digital Work and Life Experiences" in the hole of a donut. The top half of the donut says "Cloud OS" and the bottom half "Device OS & Hardware".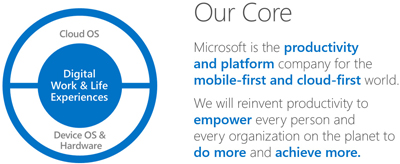 Nadella tried to put Microsoft's billions in hardware investments into the context of the company's overall strategy: "Our proprietary devices will light up digital work and life. Surface Pro 3 is a prime example: it's the best productivity tablet in the world. Additionally, we will be building first-party hardware to drive more demand for the entire Windows ecosystem. Sometimes that means we'll develop new categories like we did with Surface. It also means that we will responsibly create the Windows Phone market, which is our goal with the acquisition of Nokia devices and services. "
He acknowledged that Xbox was not at the heart of Microsoft, but called it a company "where we can have fundamental impact and success" and pledged continued investments.
Moving away from specific devices, Nadella made it clear that another type of hardware investment from Microsoft will continue at a strong pace. "We will continue to grow our data center footprint globally," Nadella promised.
He positioned Microsoft's data centers as a fundamental asset fueling the overall strategy of the company, but called them particularly important for the Cloud OS, itself particularly important for Microsoft.
"Our cloud operating system represents the greatest opportunity as we work from a position of strength. Along with Azure, we are one of the few cloud providers to operate on a massive scale. The combination of Azure and Windows Server makes us the only company with a public, private and hybrid cloud platform that can power modern businesses, "said Nadella.
What Nadella's memo does, more than anything, is try to better articulate what Microsoft can be with the things that were largely put in place during Ballmer's tenure – massive investments in building data centers. , the Web 2.0 companies, the Nokia telephony activity and Development of surfaces.
"Peripherals" may no longer be the primary word. But at least for now, Microsoft will not close any acquisitions or sell business units or data centers. Nadella will enter the next phase of technology wars with the company he has.
Related:
posted by Scott Bekker to July 10, 2014 To 12:45 p.m.
[ad_2]