[ad_1]
»Go to main news
Vision Board Comes True: Audiology Masters Grad Fulfills Dream of Dating Dal
posted by Stephanie Brown on June 16, 2021 in News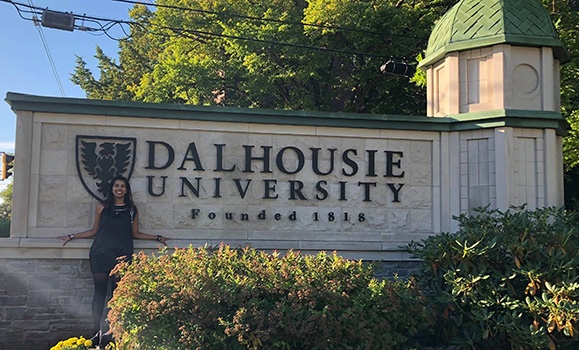 Melanie recently moved to Grande Prairie, Alberta to begin her career as an audiologist.
How important is it to you to receive this diploma?
To say that I am delighted to receive this diploma is an understatement; it always seems surreal to me! I made a vision board three years before coming to the program, imagining myself in Dalhousie, even going so far as to create a fake letter of acceptance and pasting pictures of Halifax. To have this vision come true for myself is a huge personal accomplishment.
My parents fled the civil war in Sri Lanka and came to Canada as refugees in the late 1980s. My mother worked in factories during the week and also worked evenings and weekends as a seamstress. . Witnessing his struggle motivated me to want a better life for us. In addition, my father has a BSc from Sri Lanka, but was not recognized in Canada, and he had to undertake other types of work. Yet my father played a vital role in my early education. He went the extra mile to give me lessons so that I could learn more than what was taught in class. I have always appreciated the privilege of having access to an education in Canada because it is like a passport to eventually work anywhere in the world.
Of course, the reality is that when you pursue an education dream, it takes a lot of discipline, sacrifice, and persistence. In my own case, there were many obstacles and personal obligations that made me wonder if I would ever be able to pursue this degree and continue my education. I am so grateful for the endless love and support from amazing mentors and for the many friendships and relationships formed along the way, both in Canada and abroad! This degree would not have been possible without them, and it is a testament to the power of friendship, unconditional love and faith.
What were the highlights of your graduation?
Having graduated from a larger university with larger class sizes undergraduate, I absolutely loved the small size and privacy of the audiology program at Dalhousie. In establishing familiarity with the teachers, it was a gift to have them so engaging and readily available to answer questions without making me feel intimidated. I appreciated all the opportunities we were given to observe, like doing preschool screenings in first grade where we experienced real career applications. The internships were the main highlight for me, even during the pandemic! My internship coordinator knew that this town girl had a strong desire to try internships in rural areas (Yarmouth, Nova Scotia and Thompson, Manitoba). My last internship in Thompson, Manitoba was also unique, unlike anything I had experienced, and I'm not just talking about the cold! It was there that I was most exposed to Indigenous cultures. I was also able to see how healthcare is performed in remote areas with an audiologist serving multiple areas.
What will you miss during your stay in Dal?
Dalhousie was a dream come true in many ways, so I miss being in Halifax and on campus already. I really enjoyed the events, the inter-professional initiatives and the opportunities to speak at student-led conferences. I was also part of the Tupper Concert Band and it was nice to meet other members of Dalhousie and the community. I also really enjoyed having wonderful classmates (now colleagues!). One of my favorite memories is when my mother came to live with me. On Valentine's Day before the pandemic hit, I invited her to class to talk about Sri Lankan culture and made her cook spicy Sri Lankan food. My classmates not only ate her food, but also made her feel very welcome. It was a memory that spoke volumes about openness and understanding from my peers.
What was your journey to Dal and this program?
My undergraduate degree was broad enough that I still didn't know which path to take after completing it. Did I want to do research, speech therapy or teaching? Since the age of 16, I had dreamed of the Maritimes (even though I and anyone I knew had been there). As I got older, I specifically wanted to go to Dalhousie University, given its excellent reputation in science. While considering my options, I worked at a wonderful place called The Listening Center. They used sound stimulation (music and vocal) as training to improve concentration and facilitate social adjustment, language and learning skills. Their goal was to help children and adults with a wide range of issues such as overall developmental delays, autism spectrum disorders, learning disabilities or ADHD. After about a year of doing this, I moved to France for 10 months to be an English teaching assistant and to explore if teaching or speech therapy was the way for me. However, towards the end of my stay abroad, at the suggestion of my former employer at the Listening Center (and mentor), I began to consider a career as an audiologist. The most appealing aspect was that I knew audiologists were working with auditory processing issues, which I saw at the Center. Without going into detail, auditory processing disorders are related to problems with listening and processing rather than hearing the sound itself. It was a revelation to realize the vital role the ears play in our quality of life. As an audiologist, I knew I could have a career as a clinician that directly helps people, but I would also have the opportunity to continue my research if I so chose.
What topics / research / work did you become passionate about during your studies?
Since I arrived with an interest in auditory processing disorders, I really enjoyed doing my research project working with someone who was also passionate about the subject, Dr. Greg Noel (Hearing Speech Nova Scotia) and the well-informed contribution of Dr Steven. Aiken. I was also grateful to have worked with Dr Janine Verge and my peers on an article on the accessibility of technology and living with hearing loss. In the year-long process of meetings and research, Dr. Verge's passion was contagious and I am now very interested in the subject.
How did COVID-19 impact you during your studies?
I cannot say enough how grateful I am to the Faculty of Graduate Studies and the School of Communication Sciences and Disorders for doing everything they could to ensure that we were able to graduate on time. By the time the pandemic hit, we were finishing our second year of classes and were due to start our internships at the end of April. I had chosen to go to Yarmouth, but COVID meant canceling all plans. The uncertainty as to when, if any, the placement would take place and the stress of possibly postponing graduation weighed heavily. Our faculty did a wonderful job organizing virtual meetings to keep us updated and reassure us, even if nothing was certain. They were able to abruptly move the courses planned for the fall to the online summer courses. Even though it was difficult to adapt to the online courses, the good thing is that it kept us all connected, and we didn't feel like we was wasting time, twiddling our thumbs and doing it. 'be unable to work. In the fall, while completing my internship, I was a teaching assistant for a course. Doing all of this on Zoom was a once in a lifetime experience, and I was impressed with the wonderful way freshmen handled the start of graduate school during a pandemic. Despite the pandemic, I was still receiving job offers even before I graduated, which is also testament to the reputation of the program.
What's the next step for you?
I recently moved to Grande Prairie, Alberta to begin my career as an audiologist with Soundwave Hearing Care. My employer is also a Dalhousie alumnus and provides excellent service at his clinic; I can't wait to be part of his team. I keep updating my dashboard so it will be exciting to see what this Dalhousie graduate continues to do!
[ad_2]